Joshua Kiprui Cheptegei (born 12 September 1996) is a Ugandan long-distance runner. In 2017 he became the Silver medallist in the 10000 m run at the World championship in London. In 2018 he set a world record for the 15 km road race and became the World Cross Country champion in 2019. In 2019 in Doha, he won a gold medal in the 10000m men's finals.
Early life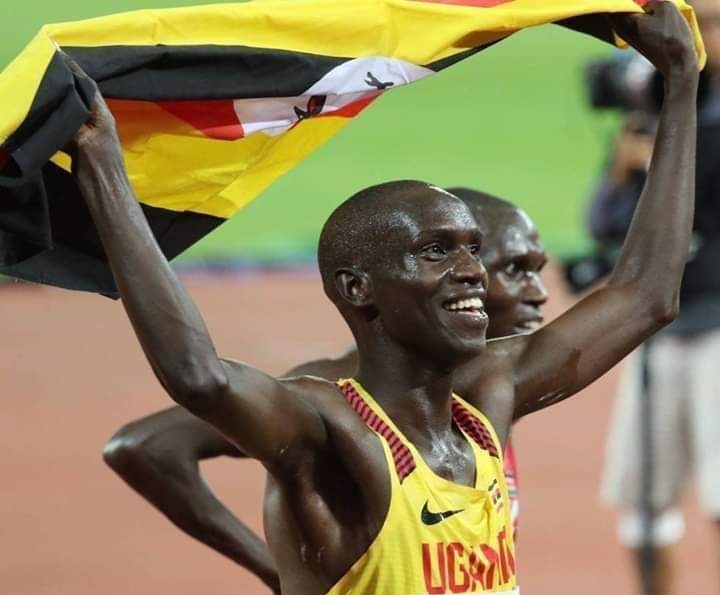 Cheptegei was born on 12 September 1996 in Kapsewui, Kapchorwa District, Uganda. In primary school, Cheptegei first played football and tried out the long jump and triple jump, but switched to running when he discovered his talent in distance running.
Cheptegei studied languages and literature in Kampala for two years, and is employed by the Uganda National Police.
He is a silver medallist in the 10,000 metres at the 2017 World Championships in London. He also competed in the 10,000 metres at the 2015 World Championships in Beijing finishing ninth. He ran at the 2016 Summer Olympics in the 5000 metres and 10,000 metres, finishing eight and sixth respectively. Cheptegei was the 5000 metres and 10,000 metres champion at the 2018 Commonwealth Games.
Cheptegei is the four-time winner of the Zevenheuvelenloop 15 km road race in Nijmegen, Netherlands. In 2018 Cheptegei set the world record for a 15 km road race. He finished in 41:05 and improved the world record by 8 seconds, formerly set by Leonard Komon at the Zevenheuvelenloop in 2010. Abrar Osman finished second with 42:34 and the 2017 5000 m world champion Muktar Edris placed third with 42:56.
Cheptegei is most notable as the winner of the senior men's race at the 2019 IAAF World Cross Country Championships in Aarhus, Denmark. He won in 31:40 on the 10.24 km course. Ugandan teammate Jacob Kiplimo finished second in 31:44. As Thomas Ayeko placed 7th and Josehp Ayeko tenth, Uganda won the team first place title.