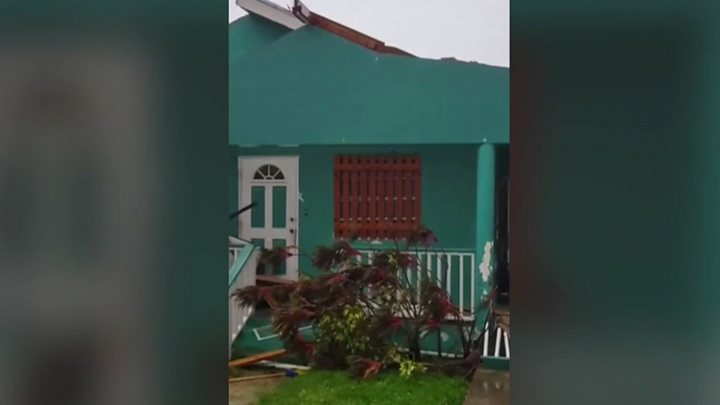 Hurricane Dorian appears to have caused "unprecedented" devastation in the Bahamas, the country's leader says.
The storm, the second-strongest Atlantic hurricane on record, remains "extremely dangerous", said Prime Minister Hubert Minnis.
Some 13,000 houses are feared damaged or destroyed, according to the International Red Cross.
Pictures showed surging floodwaters, upturned cars and snapped trees.
Dorian is the most powerful storm to hit the Bahamas since records began and will later move "dangerously close" to the US east coast, according to forecasters.
It hit the Bahamas as a category five hurricane but has now weakened to a category four with maximum sustained winds near 155ph (250 km/h), says the US National Hurricane Center (NHC) in its latest update.
Dorian will however remain "a powerful hurricane during the next couple of days".
The NHC said that only a slight deviation in the path of the storm could bring Dorian directly over Florida's east coast, which is already expected to face life-threatening storm surges and dangerous winds over the next couple of days.
The US states of Florida, Georgia, North and South Carolina have all declared states of emergency.
What's the latest from the Bahamas?
The storm is crawling over Grand Bahama, having earlier made landfall on the Abaco Islands, which are just to the east.
Both chains are in the north of the Bahamas archipelago. Grand Bahama, with a population of about 50,000, is only 100km (60 miles) east of West Palm Beach in Florida
Dorian is travelling west at just over 1mph (2km/h), the NHC said. It added that the hurricane would "continue to pound Grand Bahama Island" through much of Monday.
The winds at the core of the storm are spinning so fast that the centre is collapsing on itself, stalling over the area and weakening the storm's eye. This is making it expand and cause damage over a larger area, says BBC Weather.
A "life-threatening storm surge" could raise water levels by as much as 23ft (7m) in parts of Grand Bahama island, said the NHC