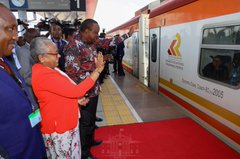 BBC Africa
BBCCopyright:
BBCExperts are questioning the viability of the latest addition to Kenya's railway infrastructure moments after President Uhuru Kenyatta officially launched the second phase of the Standard Gauge Railway (SGR) line, dubbed phase 2A
The new 120km (74 miles) stretch is a western extension of the line that already links the port city of Mombasa with the capital, Nairobi.
Unlike the Mombasa to Nairobi line, which was launched to much fanfare in 2017, state activities for the opening of the new line have been low key.
Analysts say that the government is having a hard time justifying the economic benefit of the project because the terminus, Suswa, is a nondescript town in the Rift Valley – hence the derisory nickname "railway to nowhere".
The plans to extend the line to Kisumu, on Lake Victoria, and to Uganda have been thrown into doubt because Chinese finance has not been forthcoming.
State House Kenya@StateHouseKenya
President Uhuru Kenyatta and First Lady Margaret Kenyatta arrive at Nairobi Terminus for the official launch of Phase 2A of the Standard Gauge Railway. Phase 2A stretches from Nairobi to Suswa.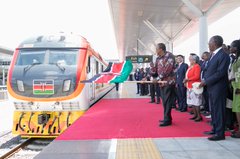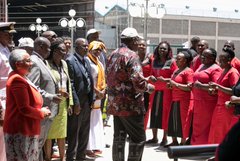 At the recent China Africa summit in Beijing, the Chinese government declined to fund what it termed as vanity projects, saying it would only finance those that made economic sense.
Phase 2A of the line was undertaken by the China Communications Construction Company at a cost of $1.5bn (£1.1bn).
Passenger services will start immediately with cargo services to follow, but it is not clear exactly when.
Since its launch, the performance of the existing Mombasa-Nairobi line has also led many to question its viability.
In its first year of operation, the SGR's freight service generated $57m, while the passenger service brought in $16.1m according to the Kenya National Bureau of Statistics, against an annual operation cost of $120m